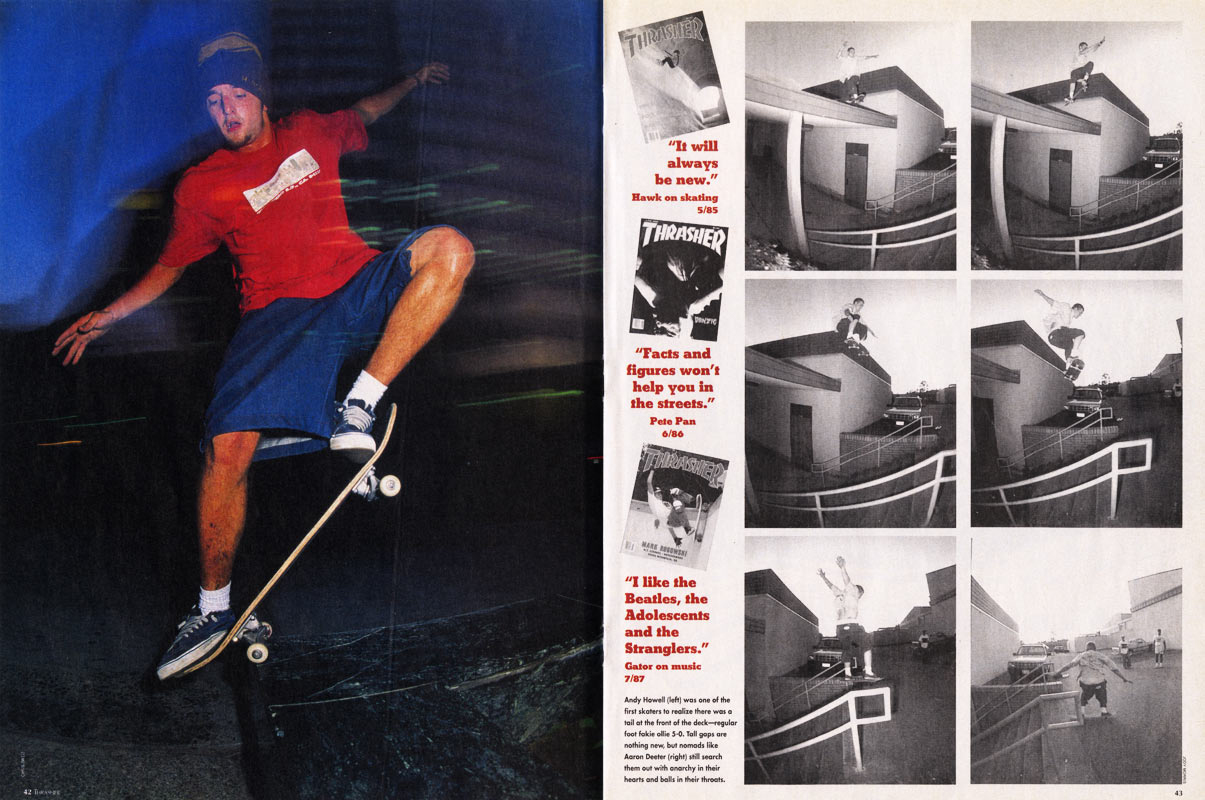 Andy Howell's #MyNewDealStory
If you caught my Nine Club episode and follow me @andyhowell43 on Instagram, you've already heard some stories. But following the first two monthly email newsletters from my New Deal, 411, and Element co-founders Steve and Paul, I wanted to actually begin to tell you the story behind #mynewdealstory. Since it's long enough to be a double feature, let's call this newsletter is the June/July Edition...
Key experiences led me to develop my own skate and art style as early as the mid 80's, which later translated into my parts for New Deal Promo, Useless Wooden Toys, 1281, Underworld Element Skypager, and Element Fine Artists Vol 1, and also informed the board art and ad styles of New Deal.
You may want to get yourself a black coffee and a chocolate chip cookie… we gonna be here a while.
Though I've lived in California for 25 years, when asked about my origins, I must reflect on growing up back East in the early 80's, which at the time was the land of home-made backyard ramps, extremely rough concrete, and die-hard DIY attitudes. Information about skateboarding, especially reliable photo sequences of new tricks, was really hard to come by as a kid. The magazines only came out once a month with mostly still photos, so when I got hold of a mag I would comb through the pages like it was some sort of bible, looking for any evidence of how to do the new tricks that were being invented out in California. Iconic images by legendary photographers like Grant Brittain, MoFo, and Kevin Thatcher were the guiding light on dark winter nights in Virginia Beach, and are forever burned into my brain.
After supper, I used to lie on my floor and pose tricks on my board, twisting and turning and rolling around the floor to get into the same position as the black and white riders in the magazine spread open in front of me. I stared at the rider in the photo, then the ramp or street location for context, and combined that with anything I could glean from the photo caption of the photo.
I soon began to translate these poser moves into real tricks on ramp and street, but since there weren't many sequences (and no videos) in the early 80's, the mags left a lot to the imagination. I was able to develop my own style of skating, including my own interpretation of how to do the tricks I was seeing in the mags, and later the ones I was seeing in my mind. It felt natural to ride a little loose, a little laid back, and I was interested in learning or creating as many tricks as possible. I learned tricks pretty fast, and later became obsessed with doing things switch stance, or "backwards." I would call the style I developed was very east coast street, born out of necessity in a harsh skateboarding landscape, which was equally inspired by art, music, and the skating that I was into at the time.
When I was about 15, I had an experience which changed the course of skating for me. Gonz and I both stayed at Marty Jiminez' house in Huntington Beach while Gonz was living on the living room floor in a wooden box made out of 4x8 sheets of plywood. We skated together every day for a week, and I watched him changing the world of skateboarding in real time. During those sessions with Mark I became a real street skater, and by the next am street contest in Virginia Beach, I was on a different level. I had also been lucky enough to session with Tommy Guerrero, one of the most stylish street skaters of all time, and Neil Blender, which was more like visual storytelling on a skateboard. These skaters helped me understand that doing my own tricks and skating my own way was the right path, and through experiences with each of them I would come to realize that doing tricks in my own style, especially my own tricks, would be my main focus in skateboarding.
We had a small crew of street skater friends in Virginia Beach including Bushka Vidal, Charles Harmon, Brad Marks, Otha Nowlin, and Brian Zentz. Style was just as important to us as the tricks we were doing, no matter what terrain we were skating, and I discovered my own style while skating and traveling to contests with this crew.
At about 12 or 13, while I became really focused on skating, I was also nurturing another passion, art. I started drawing skeletons in pools, cover art for a local punk band, t-shirts for my first sponsor, 17th Street Surf Shop in Virginia Beach, and even a drawing for the cover of @stevecaballero self-published "Speeed Zine" San Jose. During my mid teens, I screen printed my own t-shirts, wrote and edited Sic Nature 'Zine, and designed and built all different kinds of ramps with my friends, all while skating every day. Skateboarding and art fed each other, inspiring me to choose a divergent path from the post-prep school one my parents imagined for me. These experiences made me feel like I could create anything that I could imagine. Later that would lead me to believe that founding a new skateboard company was just as accessible as designing a t-shirt.
Around 11th Grade my art teacher, who had taught and guided my art from 1st grade, invited a rep from the Art Institutes to class, and I knew from that day that all I wanted to be was a skateboarder and artist. I ended up at the Art Institute of Atlanta, where art school, skateboarding, and music merged to provide me with a platform to express myself in every way, from skating to street art to graphic design and painting. After working on a stat camera to do old school magazine paste-up in school, I joined one of the first Mac labs in the country at my school, and got into desktop publishing in the very early days of programs like Freehand and Type Styler. This new tool was empowering, and I began to see that I could visualize and realize ideas more and more quickly. The subculture that was emerging was brand new music, art and skating began to get bigger and stronger, which led me to believe anything was possible.
As a younger kid, I was into the idea of Fluid Motion on a skateboard, which later became Creative Urban Manipulation, mostly flowing over and around a lot of naturally occuring street obstacles like curb cuts, banks, rails and walls. My skating was a combination of style-focused wallies, stephops (which we called 43's), and nollies, interspersed with the newer street tricks that my friends and I were experimenting with at the time. I stayed focused on learning or creating new tricks in my own style and adding the other dimensions of my art and music to paint a whole picture at the intersection of all three.
Only a few years later in 1990 we decided to start New Deal, and it launched with a bang, rising to number 3 brand in skateboarding in the first few months. I would draw from all my skate, art, and music experiences to brand the company, create the logo on a napkin, drive the look and feel with a little bit of yellow, turn wall pieces into graff-inspired board graphics, write stories and layouts for ads, help direct the videos, and design apparel like tees and the ever-baggy Big Deals Jeans.
We didn't realize it at the time, but In many ways those first few years helped pave the way for today's skateboarding.
Now, almost 30 years later, it looks like it's time to shake things up again. Sounds like a good idea to me…
- Andy Howell